Good Grief: Liberals Complain That NBC Aired Raaaaacist Commercial
---
There's lots of things one can complain about regarding the XXX Summer Games (snort). Most have seen the spectacular fail from NBC, no point in rehashing it. But, seriously?
Did NBC Just Air A Racist Commercial?
After Gabby Douglas won the gold and Bob Costas spoke about how amazing this was for the first African-American to win the women's all-around gymnastics title, NBC aired a commercial of a Monkey doing gymnastics which has caused quite a stir. Racist, or just bad timing? Tons of people on Twitter seemed to think it was more on the racist side.
Here's what it looked like
And here's a few of the Tweets, per the Buzzfeed link above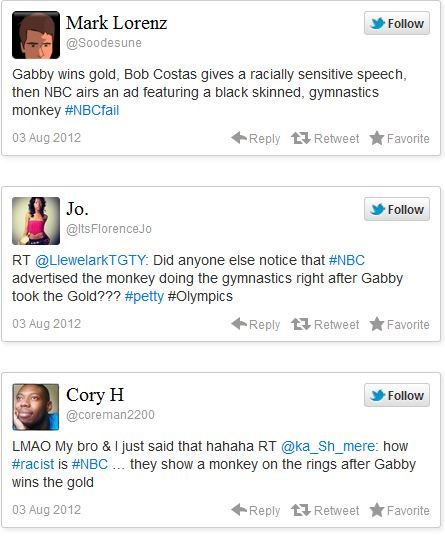 Sigh. It was a commercial. As Ed Driscoll explains
While NBC will likely be forced to grovel an apology, even a fake "we're sorry if you were offended" effort, they also have a chance to push back against this if they want, and remind viewers that:

1. Commercials and the main TV programming they sponsor are two separate entities; if you're seeing a connection between the two, that's your problem. And:

2. If you're associating African-Americans with monkeys – or you think that we do – that's really your problem.
True. If you are immediately jumping to a racism mode of thought and linking the two, you are the racist. Furthermore, commercials tend to be scheduled well ahead of time with only a smattering of an idea as to will be on, particularly when one is dealing with the Olympics or some other sporting event. The advertiser probably knew that gymnastics might be on. Good time for that commercial, much like beer commercials with scantily clad women works best when The Man Show is on. But, we shouldn't be too hard on our liberals pals: all the ever see is racism, and we should work hard to keep them calm and ween them from their long held racist ways.
Crossed at Pirate's Cove. Follow me on Twitter @WilliamTeach.
Related Articles
Why does it seem that every s0-called energy bill actually is about restrictions and taxes, but barely about increase energy
What kind of world are we living in where the Susan G. Komen Foundation has to do damage control for
Nice work, SEIU. Service Employee International Union members descended upon the home of a banker to protest the banker's work.