American Optimism Lowest Since 1979
---
Surprise!
(CBS DC) Fewer than four-in-10 Americans (39 percent) rate the US in a positive manner — the most negative feedback the country has produced since 1979.

A new Gallup poll finds that Americans are as negative about the country's prospects as they have been in more than three decades. Americans are more upbeat in their predictions of where the U.S. will be in five years (48 percent positive), but this is the lowest rating since an August 1979 Gallup poll was conducted.

The negativity about the current state of the US has a politically partisan split — Republicans stated that the country's best days have already passed and Democrats say the best days have not happened yet. Seventy-five percent of Democrats gave positive reviews of how the nation will be five years from now, but only 15 percent of Republicans were positive — a 60 percent partisan gap.
Independents break 48% for 5 years from now, and 39% now.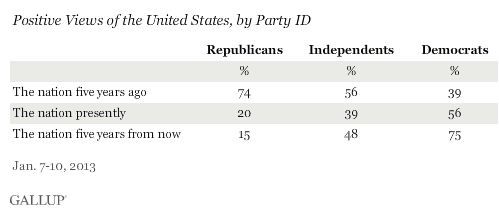 Democrats are apparently enthused that 5 years from now they'll still be unemployed and living off the government teet, as the economy stagnates much like Europe and America's debt is in the $20 trillion range.
Crossed at Pirate's Cove. Follow me on Twitter @WilliamTeach.
Related Articles
Some Hollywood films are built on the idea of suspense on a grand scale — "The Last Days of Pompeii", and the story of the Titanic are both perennials for filmmakers, because the audience knows the characters are doomed, and thus watching their otherwise everyday quotidian details takes on a whole new dimension, as we await the tragic denouement. Photos of the Middle East in the 1970s take on a similar look these days.
While those Dems who managed to remain conscious during the Moonbat Messiah's State of Confusion blabathon clapped and simpered, here's
This weekend Obama adviser David Axelrod gave us a perfect example of the art of empty demagoguery. Comments made by